"Meeting of the Masters" – Annual Dhwani Academy Concert in Phoenix, AZ
Please join us for our annual Dhwani concert "Meeting of the Masters" Sunday, August 14th at the Burton Barr Central Library downtown Phoenix. This will be quite an experience with a mix of students and masters of Indian music as well as an performance from my African Drum Jam class! Hope to see you there!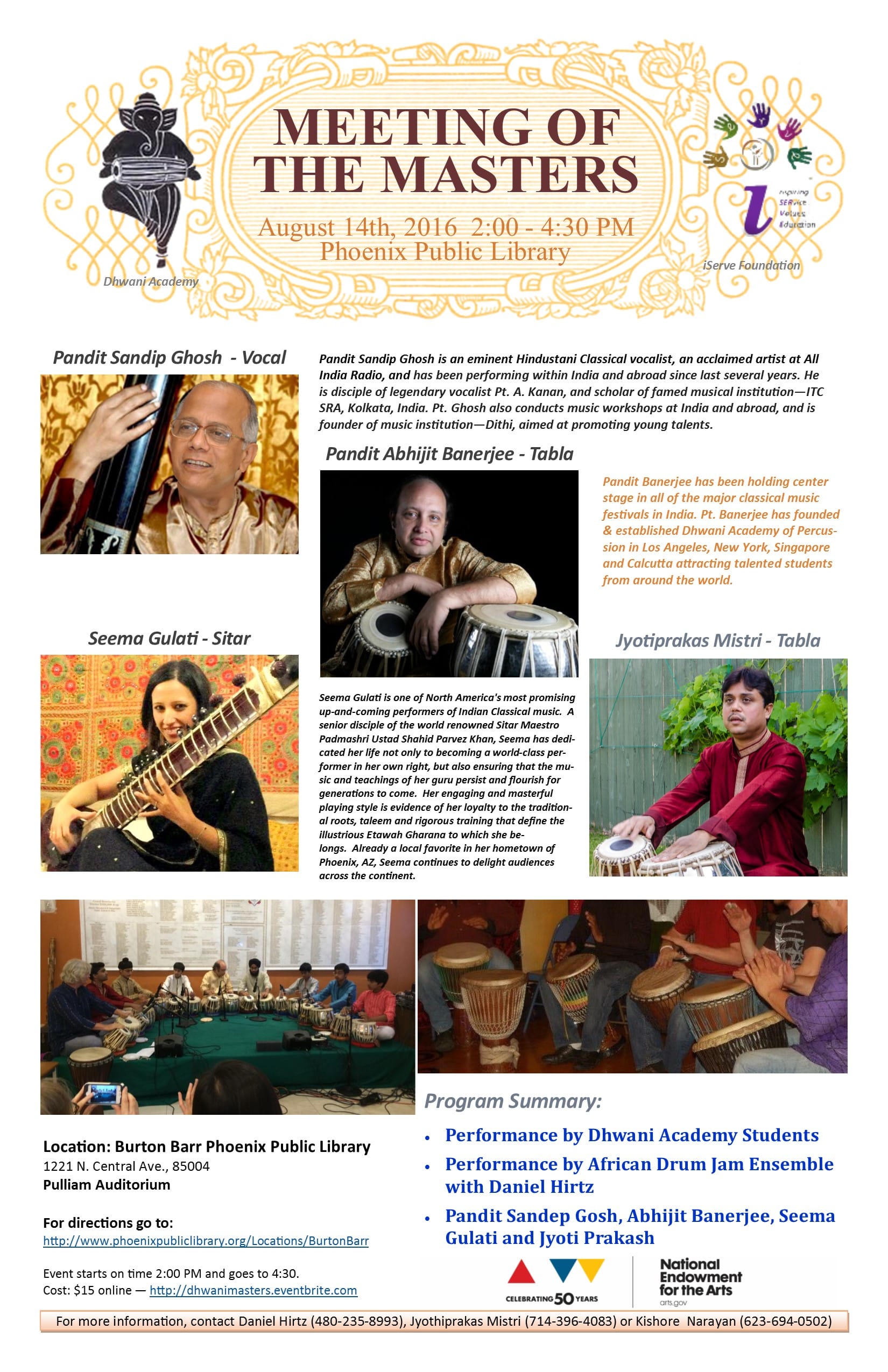 Meeting of the Masters will be an afternoon of a  variety of music inspired by the Dhwani Academy of Percussion Music its founder Pandit Abhijit Banerjee as well as Daniel Hirtz and the members of his West African Drum Jam Ensemble.
This yearly concert has gained lots of popularity because of the variety and quality of music people have experienced.
Not only do we regularly feature great masters of Indian music we also showcase our upcoming talent from the world of Indian Tabla – the ever more popular Indian percussion instrument. This year we also will include African percussion with Daniel Hirtz and a dedicated group of students. It has been the desire of Pandit Abhijit Banerjee to expand the Dhwani Academy beyond Indian parcussion and Tabla into new realms of international percussion. With Daniel Hirtz now being part of the Dhwani faculty that dream is slowly coming true. This year our focus will be on West-African drumming and we will perform music that bring both traditions together.
Featured Artist Joining us:
Pandit Sandip Ghosh  – Vocal
Pandit Abhijit Banerjee – Tabla
Seema Gulati – Sitar
Jyotiprakas Mistri – Tabla
Students of Tabla Ensemble
African Drum Jam Ensemble:
Daniel Hirtz – Tabla, Djembe, Percussion
Ved Narayan – Tabla, Djembe, Percussion
Saaketh Narayan – Tabla, Sangpan, Percussion
Dashmesh Khalsa – Djembe, Didgeridoo
Carol Benwell – Djembe, Dun Dun
Valerie Handlers – Djembe, Percussion
Seti Gershberg – Djembe, Percussion
Lavinia Struble – Kinkeni, Percussion
WHEN

WHERE

Burton Barr Central Library – 1221 North Central Avenue, Phoenix, AZ 85004 – View Map

TICKETS

Contact: Daniel Hirtz (480) 235-8993