When:
February 29, 2020 @ 2:00 pm – 5:00 pm
2020-02-29T14:00:00-07:00
2020-02-29T17:00:00-07:00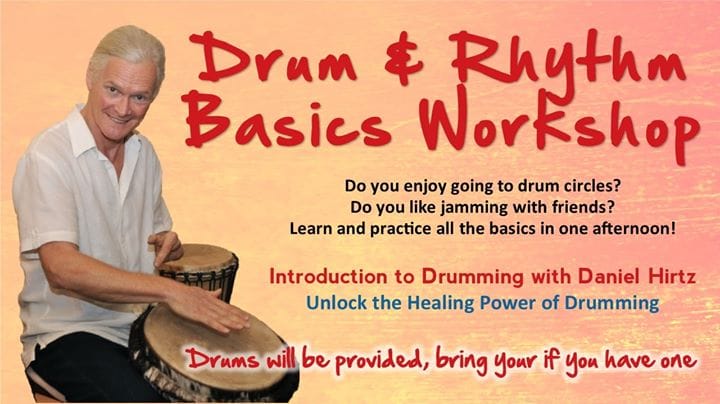 Join us in this three-hour workshop to learn percussion basics that will get you on the right path to drumming.
In this workshop you will learn and practice all you need to know to
– understand what is going on when drumming
– be able to play along in a drum circle,
– have confidence in what you are doing,
– use the drum circle to get better and
– enjoy drumming a whole lot more.
This is not a class that teaches any specific tradition. It is simply based on numbers and you will be able to apply what you learn here to any drum you're playing.
Unlock the Healing Power of Drumming
– How drumming invigorates you no matter what your current skill level is
– What to focus on when drumming with others
– How to access altered states through drumming – feeling profound connection, energy flow, and total presence.
Daniel started teaching this particular class in 2012 because he saw a need when he was watching people during drum circles simply not knowing what to do. When you know what to do the whole experience changes and a whole new world opens up.
In this class, you will realize that music is not reserved for those who get into practice and become performing artists… music is for everybody!
"Music and drumming is a dimension of our lives and is the language in which we all can speak at the same time. It gives us access to feeling a community of people being in sync, being one in the beat and reducing tensions in and between us." – Daniel Hirtz
About 150 people have participated in this class. Go to this link to see their feedback: https://danielhirtz.com/classes/drum/