Basic Drumming Pattern Practice
Join us Basic Drumming Pattern Practice, a weekly ongoing class Tuesdays from 7:15 PM to ~ 8:15 PM.
While the basics of drumming can easily be understood and put into practice to develop ease and fluidity it takes repetition.
In this class, we support that process by choosing just one pattern for all of us to repeat and then give it ample time to sink in. To feel comfortable and relaxed when we play rhythms and even simple patterns we need to "soak" in them so that our nervous system has the time to fully absorb them.
When we learn 1 pattern right it will have a profound effect on our ability to learn the next one.
My classes always have the foundation an integrative/healing attitude. That means we always keep the focus on really "Being Together" and not going faster than the slowest in the class.
The most energy flows when people are really connecting – both in the beat and the music as well as an open, positive and supportive culture. That way the more developed drummer take a supportive role that allows them to deepen their feeling while playing something more simple. Of course there is also a lot of opportunity to "go for it" and test your skills!
This is an ongoing class for students with some experience and basic knowledge of drumming. If you participated in the "Drum and Rhythm Basics Class" you are ready for this…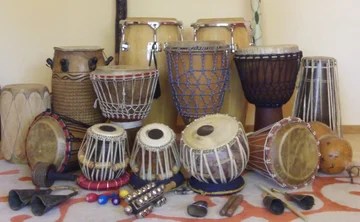 Practice and develop your drumming and percussion skills!
This is a practice course! Each piece will be practices in length so that the rhythmical patterns can sink in deeply.
We also use systems from various traditions: West African (Djembe, Dun-Dun, Bells), Afro-Cuban (Conga, Bongos, Clave…), Indian (Voice percussion, Konnakol) and other instruments from around the world.
We will intensely study each voice in its relationship to the beat and to the other voices. We not only going to learn various pieces of percussion music but deeply establish the mind-body experience of each pattern. This allows us to use these patterns for any instrument and in any drumming experience.
Beside of working with drums we will use stomping and clapping the beat while reciting different voices. This will make sure that we "grok" each rhythm on all levels: understand it, feel it and connect it to other rhythmical patterns. The rhythms will be applied to the drums and percussion instruments until each groove is fully present and felt by everybody.
Class Time: Tuesday evenings from 7:15 – 8:15 PM
Cost: $15 for drop-ins. For committed students who will show up for all classes unless you let me know that you can't make it: $10 (payable monthly).
Drums and percussion instruments will be supplied as much as possible. Please bring whatever you have.
Qualification: If you participated in my Drum and Rhythm Basics curse you are qualified to participate in this course. If you have any other experience and know that you have the basics down please give me a call.
Daniel Hirtz is a well-known musician/percussionist in the valley of the sun. He has studied and performed for over 30 years and is well versed in several hand drums. He studied Indian Tabla for over 30 years now, also studied and plays African Djembe, Congas, Bongos and many percussion instruments from many different cultures as well as Didgeridoo. He has performed with many bands in Europe and the US. Register on the meetup page: http://www.meetup.com/drummingsounds or click here to contact me.
I am looking forward to jammin' with you!
Here is some of the feedback I received on Meetup: